Best Cushioned Running Shoes
Whether you are a marathoner, love running long distances, or even spend most of the day working while standing, all you need is comfortable shoes.
Wearing thick-padded shoes that fit properly provides maximum foot comfort.
If you want to keep your feet pain-free from blisters, here are the top cushioned running shoes that will make it a reality.
These are not just the best-cushioned running shoes for women, there are great choices for both genders covered in this post.
The article also guides on having the best selection of well-cushioned running shoes. without further ado, let us dive right into it!
Consider This When Selecting Cushioned Running Shoes
Shoe quality varies depending on many factors. Among the many, how well cushioned the shoe matters most.
Having said that, you should not compromise shoe quality for the price, there are affordable shoes in good quality that are worth buying if you`re not ready to invest in expensive footwear.
Read on to know more about how to select the best-cushioned running shoes.
Understand your feet movement
Understanding the shoe pronation is the first step in making sure that you choose well-padded running shoes for maximum comfort. This means that you need to check the degree of foot rotation from the heel, toe to the foot stroke.
Getting a shoe that has neutral or proper pronation is ideal.
Second, you must determine your foot type. The simplest way of finding it out is by looking at your arch height.
This is done by performing a wet-test, aiding you to make the right footwear choice. Make your feet wet and stand on a sandbag to get the imprint of them.
If the imprint made is curvy and noticeable then you have, a high foot-arch and the vice versa is true.
Another factor to consider is your gait. Podiatrists suggest that your foot and gait move simultaneously when you walk or run.
Thus, determining your gait type is crucial in selecting the best-cushioned running shoes.
Choose the one that accommodates your gait type.
You might also like
Are brand name sports shoes better?
Now that you have learned the importance of foot pronation, gait, and foot type when selecting a running shoe, let's now highlight various designs as you choose that fits your description.
The Adidas Cloufoam ranks as the most comfortable running sneakers due to its unique feature of an extra padded insole that clinches the foot right.
The sneaker ranks top among the trending footwear thanks to the 3,900 reviewers who fancy the shoe.
Besides, the sneakers bear Cloud foam's signature that adds an extra sleek style and the additional hue variety complements the design further.
Remarkably, the Adidas Women Cloudfoam Pure running sneaker is great for running and super comfortable to wear. You can read the complete review here.
Not everyone wants to splash out on footwear, so if you`re looking for comfort without splashing out, you can always go for more budget-friendly sneakers above.
The Thick-padded ASICS Gel Running Shoes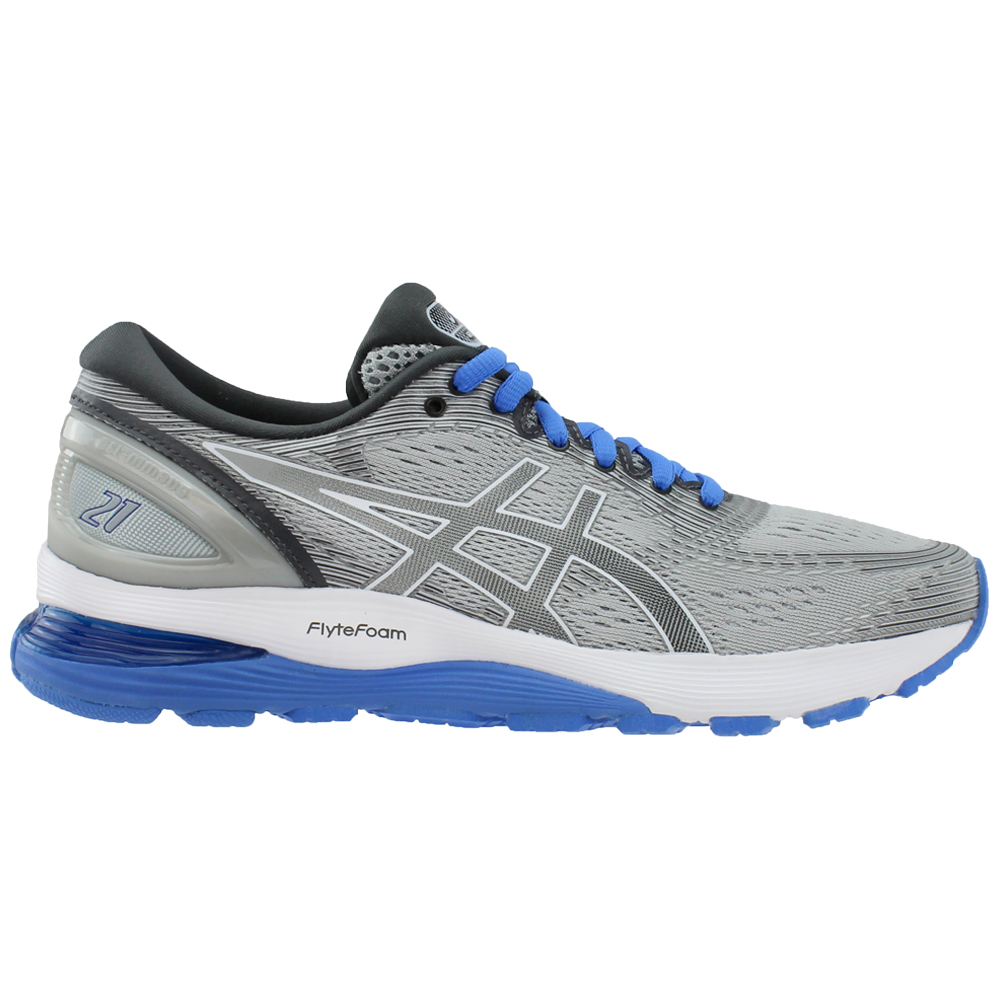 If you are looking for a well-cushioned yet soft on your foot, then the ASICS GEL-Nimbus 22 is exactly what you need.
The Nimbus is among the best well-cushioned sneakers courtesy of the advanced footwear technology- the GEL unit on the heel.
The GEL unit helps in impact absorption thus creating a sifter transition when on the move.
Additionally, the Nimbus designers incorporated extra foam on this Asics sneaker underfoot.
The foot foam includes the Flytefoam Lyte for more cushions and the Flytefoam Propel for responsiveness.
To complete the footwear features is the ASICS Trusstic system that reduces excessive twisting and enhances foot stability.
By far, the ASICS GEL-Nimbus is one of the top-ranked running shoes ASICS could offer.
Check for similar products at a lower price tag.
The Fresh Foam New balance 1080v10
Are you craving for a morning run? Then the redesigned New Balance Fresh Foam 1080v10 is the right footwear choice.
The Boston-based New Balance designs thought it best to redesign the shoe to accommodate more users, which paid off eventually.
The reason being the redesigned New Balance 1080v10 has attractive colors, is lighter, softer, and smoother than the earlier sneaker designs.
 New Balance Freshfoam 1080v10 sneaker model provides your foot with ridiculously soft and bouncy running experience.
It protects your feet fully and does not weigh the shoe down when running.
Besides, the sneaker designers used advanced software and knitting techniques to create a seamless stretch that gives you a perfect fit ideal for both men and women.
Concisely, the above top three highlighted cushioned running shoes guarantee you the maximum comfort when running or jogging.
So, take the next step and pick on one of these best-cushioned running shoes for maximum foot comfort and agility.
Affordable Cushioned Running Shoes
We all want affordable shoes or said otherwise, not everyone can afford a $200 pair of running sneakers. You don't have to confuse the price tag with quality as there are good quality cushioned running shoes under $100.
These shoes cost under $100
Great cushioned running shoes must not cost a fortune. If you shop around, you`ll always find the right footwear at an affordable price.
How much Should a cushioned running shoe cost?
Really this is up to you, but generally speaking, $100 should get you decent sneakers of your choice.
If the running shoes of your choice cost more, just hold on for a bit, shoes manufacturers do drop prices once a new model is out, so those sneakers you can`t afford now might cost 50% next season.
Check how to buy discounted shoes online.
Conclusion On The Best Cushioned Running Shoes
Running shoes can be expensive, but if you shop around, you will always find deals because if like me you can not justify spending $200 on sneakers, you don`t have to.
Something you should understand is that there are really no wrong or the right type of running shoes, and there is no one type that works for all, every runner has their type of shoe preference.
The best way to own expensive running shoes at a fraction of the price is to be patient.
Shoe companies release new versions of footwear every year and when they do, last year`s models do sell at almost 50% discount.
Running shoes are not only for comfort, cushioned shoes deliver foot protection on impact and landing during your runs.