Best Wide Toe Box Running Shoes
Toe-tight shoes are very uncomfortable, especially in running or training. This leads to chafing and blisters on the feet. Runners believe that wide toe-box shoes enhance the efficiency of the run.
Running shoes should be comfortable, if your toe and feet are constantly squeezed and rubbing during a jog, run, or a workout, this will be very uncomfortable and a workout that`s supposed to be pleasant can turn out to be torture.
Wide Shoes And Wide Toe Box Shoes Are Not One
You should not confuse wide shoes and wide toe box shoes as they are not the same. Some people with a narrow heel may still need wide toe box shoes.
Wide shoes are broader/wider across, with a broader sole for people with wide feet, but they are different from wide toe box shoes.
Just as the name suggests, wide toe box shoes are manufactured with more space and room in the toe area of the sneaker but the other parts of the shoes are a normal fit.
Wide toe shoes and sneakers stop your feet and toe from rubbing together while the rest of your feet is comfortable without the shoes feeling too large.
Who need footwear with a wider toe box:
Everyone can have these shoes, but running shoes with a wide toe box are almost a must for:
Hammertoe:
Usually caused by wearing tight-fitting shoes over a long period of time(years), hammertoe is a foot deformity.
People with hammertoe experience pain when they wear tight shoes with narrow toe boxes.
Wide toe box shoes are not limited to people with hammertoe, but anyone looking for comfort and pain-free walks, runs, and workouts. People on their feet all-day should purchase wide toe box shoes, as you stand all day, your feet swell, and the regular fitting shoes sometimes feel smaller/tighter as the day goes by.
People with bunions:
In Bunions, the large toe is pushed more to the second toe, it's believed that bunions are caused by damage to the bones of your feet thus changing the shape and form of your feet.
If you have bunions, normal shoes will usually not have enough space for your feet and tight-fitting footwear will feel uncomfortable.
You need wide toe box shoes to go through your sporting activities in comfort. Bunions explained here more in detail.
 You need wide toe box shoes if:
If your feet pinch when you feel you have the right size footwear, you might consider moving on to wide toe box shoes, you`ll know this by one or more of these:
You get corn in your small toes.

Your feet, especially the toes feel crushed even when you're wearing the right size footwear.

Your heels and toes blister even with the right size shoes.
Below is enlisted some of the leading wide toe box running shoes.
Brooks Ghost 12 Road Running Shoe
With over 6000 five star rating on Amazon from verified customers, you can`t go wrong with this pair.
It fulfills the essential pronation designing strategy. These neutral trainers with their wide toe box are perfect for relieving pressure on your feet as well as the knees and joints.
Lightweight shoe perfect for smooth running with ample cushioning.

Three types of cushioning- BioMoGo, DNA, and DNA LOFT work in coordination to give faultless underfoot softness.

A segmented crash pad is present as a shock-absorbing system. The system works to cushion stride for smooth heel-to-toe transitions. Heel, foot, back, and knee pain is reduced.

The sole is of gum rubber.

The colors available are black and grey.

The wide toe box is to provide stability to the feet and ideal for the one who have medium to the higher arch.
You may also like
 Running shoes for high arches.
Hoka One One Clifton 6 Road Running Shoe
This shoe is the latest addition in the Hoka One brand of shoe designing. The shoes tailored by them are laced with newer techniques for more comfort.
Ideal for those requiring neutral shoes and a wide toe box.

Meta-Rocker technology is embedded in the shoe designing to provide perfect tread to the runner, so that forward running is impelled.

Special cushioning called "marshmallow-soft" is present in the shoes.

The shoes are incredibly lightweight, comfortable, and apt for speedrunning.

Back pain and knee pain gets minimized.

It comes with a broader toe box for extra comfort and space to the feet.

This is ideal for conditions like plantar fasciitis and tarsal tunnel syndrome.
New Balance Fresh Foam 1080V10
The shoe is featured to have the widest toe-boxes and perfect cushioning.
The mesh of the upper part is highly breathable and blown rubber outsole with flex grooves for traction.

The ortholite premium insole for arch support and added cushioning.

Multiple widths from narrow to broader toe is available. It is ideal for the flat foot with a splayed toe.

It relieves pain caused by plantar fasciitis.

ABZORB midsole to absorb shocks and compression.

Shoes are available for kids in various shades.

The drop height is 8mm.

The 3D heel gives more comfort and a perfect fit.
This fully padded super comfortable are sneakers zeroes the fatigue and ill-positioning of the feet in the shoes.
Foot-guiding technology to ensure the proper positioning of the feet and vanishes the feeling of fatigue.

Guiderail is there to avoid overpronation.

The StabiliPod technology is to minimize foot collapse and pronation even with the heaviest cushioning.

The Altra EGO midsole is for offering increased energy when on the trail.

Breathable, comfortable meshed vented material is present on the outer surface.

Perfect for ultrarunners.
These wide toe box running shoes are ideal for people with flat feet.
Cushioning is moderate yet safe.

Guide Rails are there with no additional weight for better support and prevent overpronation of the shoes.

The mesh of the upper body is vented and durable.

Toe-box is wide, and the shoe has a standard foot shape Toe Box.

The innovarch and inner flex features for a natural running feel.

The inner linings keep the feet cool and wicking.

Built-in-heel varusing is present.

Separate for men and women.
Altra Superior 3.5 Trail Running Shoe
Please note this is a different image from the shoes mentioned.
These wide toe box shoes are designed to best apt for training. The shoes are geared up to tackle all the hassles of any terrain.
Stone Guard rock insert comes with added protection to the feet from jerk and stony bumpiness of the trail. The guard is removable.

It has a trail claw outsole that provides additional stability and grip to the feet while trailing the stony terrain.

It is made up of quick-dry air mesh material for better durability and breathability. 

The colors available are red and black.

Fit for her technology imparts natural foot positioning, toe splay, and a comfortable base for the zero-drop platform.

GaiterTrap technology for trail-specific needs.

The midsole is EVA blended with inner flex.

The upper is made up of quick-dry air mesh.
ASICS GT-2000 7 Road Running Shoe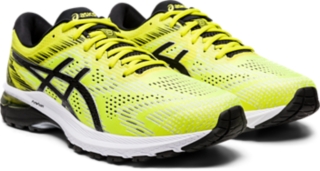 These sneakers are designed for those with overpronation.
Gel technology cushioning system to handle the change in gait. In combination with FLYTEFOAM LYTE technology, the shoe can absorb shocks and feels lighter.
It has a wide toe box for better spacious and comfortable feet implant in the shoes.

IGS (Impact Guidance System) Technology handles the heel strike to toe-off.

Guidance Line Midsole technology by ASICS is employed to enhance gait efficiency. 

High abrasion rubber is the word to describe the AHAR outsole of the shoes for more extended durability. The technology used is DUOMAX SUPPORT SYSTEM technology.

Guidance Trusstic System Technology is provided for the integrity of the midfoot structure.

The jacquard mesh upper gives the perfect fit and lowers the potential of irritation.
Almost every year, brands introduce new versions of a shoe and the old ones get significantly reduced, this is where you can get expensive shoes at a very affordable price.
Still, if you want to buy affordable running shoes at any time of year, you can opt for less known brands.
Sites like abershoes.com,www.berrylook.com, Amazon.com do stock non-brand name sneakers at affordable prices.
These wide toe box running shoes for women are so fashionable you can use them on any occasion and be comfortable no matter how long your day is. Best of all, each cost well below $50 per pair.
Click here to view the sneakers above and more.
Conclusion On The Best Wide Toe Box Running shoes
Understand that the length in shoes is the same, in wide toe box shoes, the width is increased to accommodate wider feet.
A study from clevelandclinic.org found that as we age, feet get larger so the right fitting shoes in the past may be ill-fitting, causing discomfort.
Heredity and the type of shoes you wear also determine how your feet will be in the future so always remember to get the best fitting shoes.
Drop the comments below if you have used these wide toe box running shoes.
You can also suggest the other running shoes that you find perfect for the training sessions that we did not cover here!